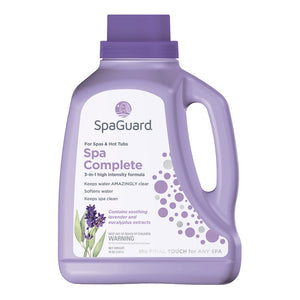 Spa Complete
The new spa care accessory that provides new levels of enjoyment
SpaGuard® Spa Complete™'s exclusive formula make spa water feel wonderfully soft and look amazingly cleaner.  That's because this unique weekly treatment contains special ingredients to create velvety soft conditions and water clarity that has to be felt and seen to believed.
Additional components reduce waterline issues with regular use.  That combination helps Spa Complete™ do the work of several current products and adds more than just a few more benefits to any spa care routine.
Makes spa water FEEL and LOOK better than ever!
3-in-1 high intensity formula
Softens water
Keeps water AMAZINGLY clear
Keeps spa cleaner
---
We Also Recommend
---