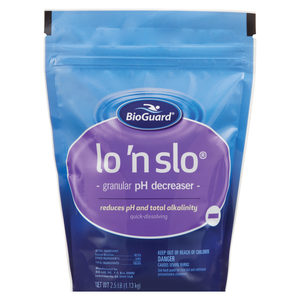 Lo 'N Slo
For lowering pH and total alkalinity
Quick-dissolving and easy-to-measure
Safer to store, transport and handle than liquid muriatic acid
Features
93.2% sodium bisulfate
Effectively and gradually lowers pH and Total Alkalinity
Compatible with chlorine, bromine, Mineral Springs®, saltwater and SoftSwim®

 

systems
Benefits
Lowers pH
Reduces total alkalinity
Safer to store, transport, and handle than liquid acid
For use in all pool types
Quick dissolving
What it does
Lo 'N Slo® is used to reduce pH and total alkalinity.
Directions for Use
For In Season temperatures for chlorine, bromine and SoftSwim®

 

pools, the ideal range for total alkalinity is 125 to 150 ppm. For Mineral Springs®

 

and saltwater pools, the ideal range is 80 - 150 ppm.
If pH is above 7.6, apply Lo N Slo®

 

as determined by ALEX®

 

Pro, or the acid demand chart on the product label.
Apply by broadcasting product into the deep end with the pump running. Add when the pool is not in use.
Circulate for 2 hours and retest pH.
Product Notes
Never add more than 1 lbs. of Lo N Slo®

 

per 10,000 gallons at one time.
Newly plastered pools may require frequent treatments for the first few weeks.
Do not add near metal fittings nor allow pH to drop below 7.2.
Do not allow undissolved lumps to remain on the pool bottom. Break up with brush.
SPECIAL INSTRUCTIONS FOR POOLS WITH COLORED PLASTER SURFACE: Do not add this product directly to pools with colored plaster surfaces. CHOOSE ONE OF THE FOLLOWING METHODS FOR APPLICATION
Colored Plaster Method 1
Pre-dissolve this product in a bucket of cool tap water, adding no more than 1 pound of Lo 'n Slo® per 3 gallons of water. With the pump running, pour the solution into the pool water in an area of strong circulation from a return fitting. Operate the circulation pump continuously for the next 8 hours.
Colored Plaster Method 2
DO NOT USE THIS METHOD FOR POOLS WITH METAL PLUMBING, STAINLESS STEEL FILTER HOUSING OR METALLIC PUMP IMPELLERS.
Remove all products from the skimmer. With the circulation pump operating, apply the appropriate dosage slowly into the skimmer. Apply at a rate no faster than 1 pound per minute. A slight increase in filter pressure may be observed, but is not cause for concern. Operate the circulation pump continuously for the next 24 hours.
DO NOT ADD ANY GRANULAR OR LIQUID PRODUCTS TO THE SKIMMER OF THE POOL DURING THIS 24 HOUR PERIOD.
NOTE: Avoid physical contact with product. Follow safety information on label instructions. Store in a cool, dry place. Keep out of the reach of children.
---
We Also Recommend
---