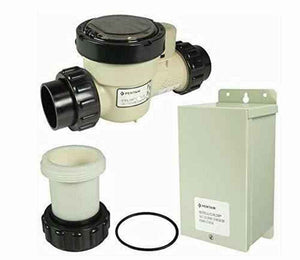 iChlor 30k Salt Cell and Power Center
DESCRIPTION
The chemistry behind the iChlor Salt Chlorine Generator makes it so simple to use - just add salt to generate all the chlorine your pool needs. Our smart technology provides built-in intelligence for unmatched convenience and control. Touchpad controls enable fast checking of salt levels, chlorine output and cell life. Plus, iChlor makes it easy to set and adjust chlorine levels, reducing the need for repeated testing and upkeep.
Keep your pool water clear and inviting with electrolytic chlorine generation - the easiest, most effective and convenient way to maintain your pool. You get the same sanitation performance as manual chlorine addition without all the drawbacks.
Simply adjust the output to achieve the precise level of chlorine. iChlor does the rest, automatically producing a steady stream of pure chlorine for softer, silkier pool water that's free of bacteria and other contaminants. What could be easier?
Features:
iChlor chlorine generator with SmartSense Detection
Detects your automatic pool cover and reduces chlorine output when the automatic pool cover is closed
Detects IntelliFlo pump and prevents the generation of chlorine when the pump is not activated
Adjust your sanitizing level in 1% increments from 1-100% with the push of a button
Automatic reverse cycling helps prevent scale build-up
Electronics are isolated in the cell and away from high-heat components for more dependable performance
for ultimate convenience, the iChlor Salt Chlorine Generator seamlessly interfaces with Pentair IntelliTouch and EasyTouch Automation Systems
Specifications:
 Pool Size: For pools up to 30,000 gallons
Installation: Indoor or Outdoor
Cell Position: Vertical or horizontal
Power Center: 115/230 Volt, 50/60 Hz
---
We Also Recommend
---