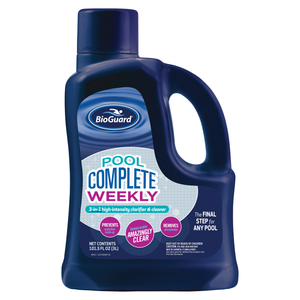 Pool Complete Weekly
Features & Benefits
For swimming pools

Compatible with chlorine, bromine, Mineral Springs®, saltwater, and SoftSwim® systems
Special clarifier blend that creates extremely clear water
Powerful enzymes for cleaning
Phosphate reducing technology
dialuminium chloride pentahydroxide 3-7%
Lanthanum chloride 3-7%
What it does
This multi-benefit product also contains powerful enzymes to keep pool water and surfaces clean and a special clarifier blend to keep water sparkling clear. A capful of product is all that's needed to maintain pristine conditions and is the perfect complement to any basic pool care system.
Directions for Use
To keep your water sparkling clear, apply this product weekly at a rate of 4 oz per 10,000 gallons of pool water.

PRO TIP: 1 capful = 4 oz.

Apply slowly and directly into water while walking around deep end of pool.
Allow pump and filter to operate for at least 12 hours after application.
---
We Also Recommend
---