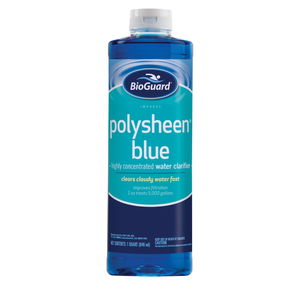 Polysheen Blue
Highly concentrated water clarifier, no dilution needed
Fast-acting formula that clears cloudy water
Recommended for weekly use
For all pool and filter types
Features
Specially formulated polymers
Compatible with chlorine, bromine, Mineral Springs, saltwater and SoftSwim

 

systems
Highly concentrated
No diluting required
Combines small particles into larger ones
Benefits
Clears cloudy water
Improves filtration
For all pool and filter types
What it does
BioGuard Polysheen Blue is a highly concentrated water clarifier that clears cloudy water fast by combining small particles into larger ones that can be easily removed by the filter. And because Polysheen Blue requires no diluting, it not only makes water beautifully clear, but also saves you time.
Directions for Use
For hazy water:
Ensure that all pool equipment is working properly, including pump, filter, skimmer and heater. If needed, backwash and/or clean filter according to manufacturer's directions.
With pump running, add 1 oz. of Polysheen

 

Blue per 5,000 gallons of water. Apply slowly and directly into water around the deep end of pool.
Allow pump and filter to operate for at least 8 hours after application.
If the water is still cloudy after 36 hours, reapply Polysheen

 

Blue. Do NOT over treat with this product; due to its highly concentrated formula, adding more than recommended dosages is wasteful and could lessen product efficiency. Do not apply more than 2 oz. per 5,000 gallons in a 72 hour period.
Weekly Maintenance:
To keep your water sparkling clear, apply Polysheen Blue weekly at a rate of 1 oz. per 5,000 gallons of pool water.
Do not overdose with this product. Do not apply more than 2 fluid ounces per 5,000 gallons of pool water within a 72 hour period. Adding more than the recommended amount of product can result in continued clouding of the water.
NOTE: Avoid physical contact with product. Follow safety information on label instructions. Store in a cool, dark place. Keep out of the reach of children.
---
We Also Recommend
---