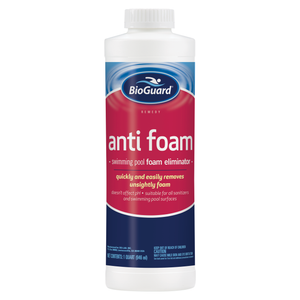 Anti Foam
Easy-to-use, fast-acting formula
Doesn't affect pH
Swimming can resume quickly after application
Works well with all sanitizer types and all pool surfaces
Features
Compatible with chlorine, bromine, Mineral Springs®, saltwater and SoftSwim®

 

systems

Suitable for all swimming pool surfaces
Benefits
Eliminates and prevents foam in swimming pools
May use as needed
What it does
Anti Foam quickly eliminates and prevents foam in swimming pools, spas, hot tubs, and ornamental fountains.
Directions for Use
Use 2 fluid ounces per 5,000 gallons of water to prevent or eliminate foaming in swimming pools.
Use 1 teaspoon per 200 gallons of water to prevent foaming in spas and hot tubs.
Repeat this dose as needed to control the foam.
NOTE: Avoid physical contact with product. Follow safety information on label instructions. Store in a cool, dry place. Keep out of the reach of children.
---
We Also Recommend
---